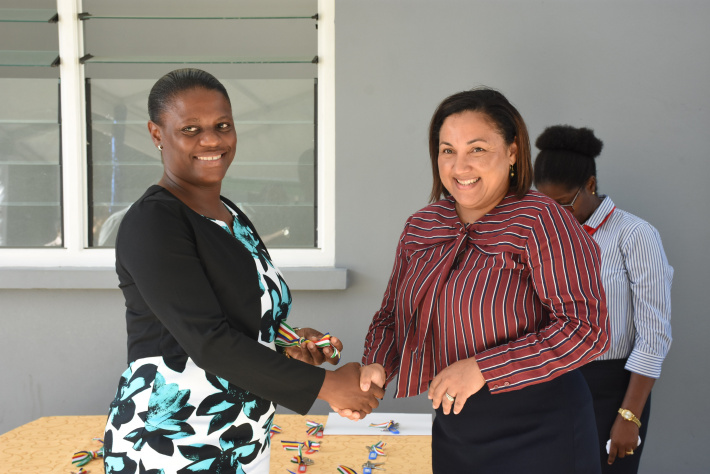 Sixty-four families will soon be moving into their newly constructed flats located on Ile Perseverance, after they were presented with the keys to their new homes in an official handover ceremony held yesterday afternoon.
Numerous dignitaries were present for the occasion including President Danny Faure; Minister for Habitat, Infrastructure and Land Transport Pamela Charlette; principal secretary for habitat Denis Barbe; principal secretary for infrastructure Yves Choppy; Minister for Finance, Trade, Investment and Economic Planning Maurice Loustau-Lalanne; Minister for Employment, Immigration and Civil Status Myriam Telemaque and Speaker of the National Assembly Nicholas Prea.
Minister Charlette commenced the ceremony with a brief address in which she affirmed the government's commitment to providing long-term housing solutions to Seychellois families.
"We are gathered here today to mark the completion of another major housing project, a sign that the government is delivering on its commitments to make housing available to families in need. The project is an example showing that the government has listened to its people to build larger and high-quality houses for our families," Minister Charlette stated.
"At this point, I would like to note that the ministry will continue to monitor other housing projects very closely in a bid to accelerate works on other construction sites with the aim of delivering the projects quicker," Minister Charlette stated.
The 64 units are housed in four blocks and have come at a cost of R35.9 million to the government. It was conceptualised based on new and modern designs and offer more space to families.
The project was awarded to the contractor in October 2017 and construction works started in November 2017.
Among the families benefitting from this allocation are families who are relocating from prefab houses, families who were already residing at Perseverance in two bedroom houses as a temporary solution and whose needs are for three bedroom units and other urgent prioritised housing cases.
Minister Charlette concluded her address by handing over the houses to chief executive of the Property Management Corporation (PMC) Evelina Antha.
Ms Antha also addressed all present urging all home-owners who have been allocated the units to act responsibly on the housing estate and to be considerate of their neighbours.
"It is through your financial contributions for the repayment of your houses that enables the government to construct more houses for families who are yet to be assisted. Therefore brothers and sisters, for those receiving your keys, it is your duty to actively make the payments and respect your agreement with PMC," she said.
Ms Antha also expressed gratitude towards all the supporting organisations who collaborate with PMC expressing her desire for closer collaboration in future.
Residents were then presented with their home keys by PS Barbe before the dignitaries were given a tour of the housing units whereby they interacted with families who will be occupying the units.
According to Minister Charlette, 178 new housing units are expected to be completed at a cost of R161 million to be allocated to active contributors.
The accompanying photos show some highlights of the handover ceremony.
[Source: Seychelles Nation]