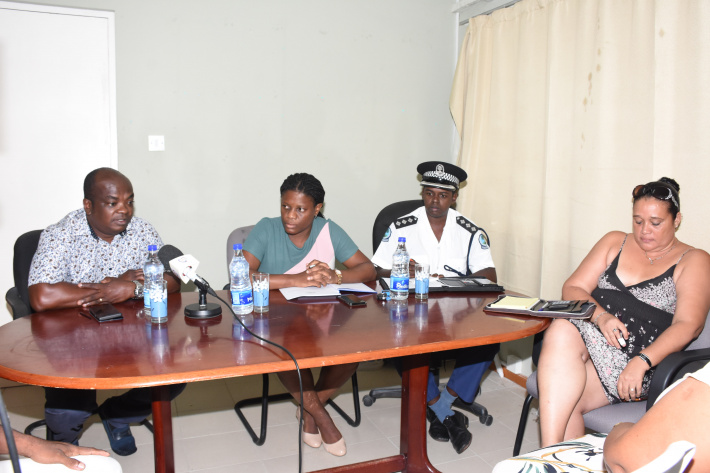 A task force made up of Perseverance residents to prevent crime met yesterday afternoon at the Perseverance 1 district administration to discuss the crime rate that has spiked up in the small community.
The meeting was attended by a few members of the crime watch; the chief executive of Property Management Corporation (PMC) Evelina Antha; the assistant Superintendent for Perseverance and Anse Etoile, Vincent Marie; the inspector for Perseverance, Marie-Antoinette Gedeon; and the district administrator of Perseverance 1, Andre Gabriel.
The objective of the meeting was to discuss and find a solution to the ever growing criminal activity and nuisance that has been affecting the district.
"This meeting is a chance to meet the various stakeholders that we are working with and discuss on the issues affecting Perseverance right now because if we don't tackle the problem early Perseverance will turn into an area where families will not want to live," stated the district administrator.
On her part CEO Antha noted that they have a system where residents can put forward their concerns, however residents must take it on their own and sort out some of their issues so this initiative of crime watch is very much welcome.
The ASP of Perseverance noted that since he began working in the district early last year he felt it was necessary to set up a crime watch in Perseverance as the initiative has helped in reducing crimes in other districts.
"In the month of August, September and October there was a huge spike in crimes being committed in Perseverance but after the crime watch was set up there was a reduction especially in November and December," said ASP Marie.
Also in attendance at the meeting were a few concerned citizens who aired out some of their grievances.
One of the main concerns that a few residents put forward was the drug problem that is on a rise. One resident noted that drug users are roaming the streets at night looking for their next fix.
Another issue that was brought up was that these same drug users are breaking into empty prefab houses and vandalising the property or squatting there for days.
Another concerned raised by many people was the fact that small children are on the streets late at night either because their parents are drug addicts or just as a result of mere irresponsibility.
Flavie Cetoupe, a member of crime watch, said the initiative behind crime watch is to help reducing the amount of criminal activity in their district because they want to take back their community.
"I hope that people are committed in helping the crime watch and work with us for the betterment of our district and safety of our house and family. The population of Perseverance is getting bigger so it is important that we tackle the situation early," said Ms Cetoupe.
The accompanying photos taken by our photographer Joena Meme show some highlights of the meeting yesterday.
Christophe Zialor